~AAIC Ishida spoke at this event (three AAIC projects in Africa were adopted in FY2022)~
Singapore- 24th April 2023-The recently announced "Webinar on the Use of the Bilateral Crediting Mechanism (JCM*1) in Kenya" hosted by the Ministry of Environment, Government of Japan, was successfully held on March 1st.
Ishida, a representative from the AAIC Kenya office, was one of the speakers at the event. The event was attended by many people from energy-related organizations and businesses in Japan and Kenya, as well as from other countries. The Q&A session after the presentation was very active and attracted a great deal of interest. After the closing session, many participants commented that they had gained a deeper understanding of JCM.
Three projects that AAIC applied for as a representative were selected as part of the "FY2022 Bilateral Credit System Financing Support Program" for the equipment subsidy project (*2). A total of 37 projects were selected in the same fiscal year, but the projects in Africa were the only three of AAIC's projects.
We will continue to contribute to the reduction of greenhouse gas emissions in Africa through JCM and other activities.
*1 JCM (Joint Crediting Mechanism): This is a system that developing countries and other countries enable to work together with Japan to reduce greenhouse gases, and introduce superior decarbonization technologies that respond to their circumstances of them. Japan aims to achieve emission reduction targets. This is one of the market mechanisms under Article 6 of the Paris Agreement. Japan has so far signed bilateral JCM instruments with 25 countries.
*2 Bilateral Credit System Financial Assistance Program for FY2022: For information on adopted projects, please refer to the JCM website here (in Japanese).
https://gec.jp/jcm/jp/kobo/mp220701/
https://gec.jp/jcm/jp/kobo/mp230210/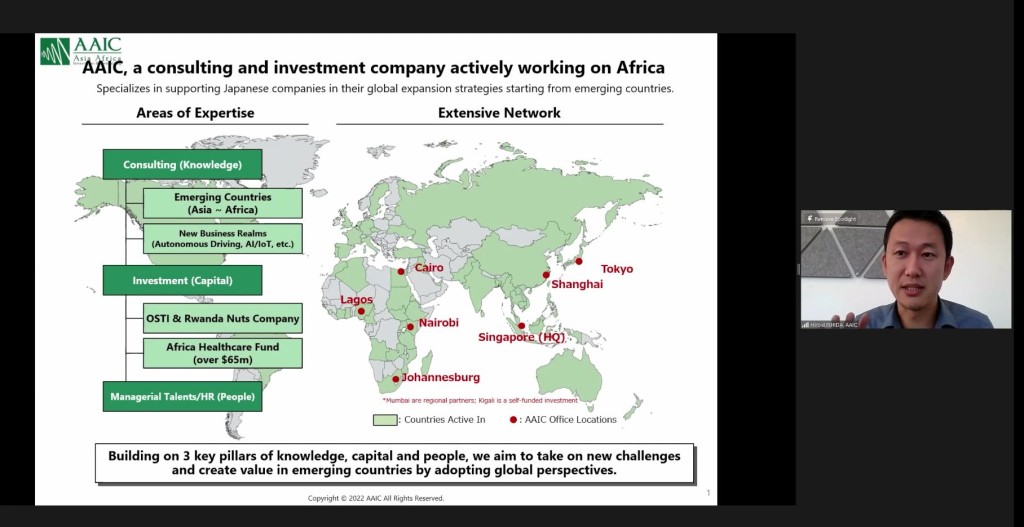 Contact:
Hiroki ISHIDA, Representative of the Kenya office and Director of the Egypt Office
pr-investment@ aa-ic.com
(Please remove the space behind @ when enquiring via email)