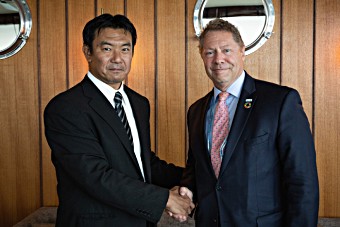 AAIC will provide funding of up to US$ 3 million to companies identified through INFUSE
Yokohama, 28 August 2019 – Gavi, the Vaccine Alliance and Asia Africa Investment and Consulting (AAIC), a Japanese growth equity fund based in Singapore, have agreed to a collaboration that will help companies offering innovations to improve the delivery and availability of vaccines in developing countries. Gavi and AAIC signed the agreement at the Seventh Tokyo International Conference on African Development (TICAD), where Gavi is unveiling its 2021 to 2025 Investment Opportunity.
AAIC will provide funding of up to US$ 3 million for two years to companies that AAIC identifies through Gavi's accelerator programme, Innovation for Uptake, Scale and Equity in Immunisation, or INFUSE. The funding from AAIC will focus on INFUSE finalists, known as Pacesetters, that are supporting early- and growth-stage health care companies operating in Africa to scale new cost-effective immunisation products and services.
"One of the objectives of INFUSE is to create an ecosystem and multi-stakeholder community that fosters and promotes innovation in immunization for accelerated vaccine delivery," said Dr. Seth Berkley, Gavi's CEO. "Our partnership with AAIC demonstrates INFUSE's capacity to scout promising innovations, and it enhances private investors' ability to make socially impactful investments. This is an opportunity to work closely with our private sector partners to write the next chapter of Gavi and to continue delivering life-saving vaccines to the world's poorest children."
"We are excited to initiate this partnership with Gavi through INFUSE, which selects innovators who deploy technologies that solve challenging constraints and build data systems," said AAIC's Director, Shigeru Handa. "AAIC focuses on providing growth capital and long-term value to boost innovators' performance. Our partnership with Gavi is a mutually strategic fit, and it will create collective values to innovators who are strengthening sustainability and saving lives around the world."
Launched at the 2016 World Economic Forum Annual Meeting in Davos, INFUSE identifies tried and tested innovations that have potential to improve vaccine delivery. It then introduces these technologies to countries so that they can be scaled.
Gavi will not take part in the deals, except only to refer emerging innovators to AAIC, which will become one of many other sources of venture capital or other funding opportunities. Gavi is not responsible for the outcomes of those negotiations or for the performance of any investment.
related articles:
https://www.gavi.org/library/news/press-releases/2019/gavi-and-japanese-growth-equity-fund-collaborate-to-support-innovative-startups-for-immunisation/
https://prtimes.jp/main/html/rd/p/000000002.000043397.html